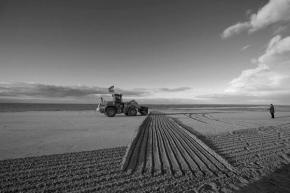 'Constructed Sceneries' film programme - a conversation with guest curators High & Low Bureau
Thursday, 3 October 2013
starts at 8 p.m.
Free admittance
As part of the 'Scenographies' project, the film programme 'Constructed Sceneries' explores the different ways in which artists use cinematic apparatus to re-contextualize and challenge standard perspectives of public surroundings. This selection was curated by the High & Low Bureau, and combines film projects from SKOR's archive, setting them alongside other video works which actively blur the borders between "natural" landscapes, urban contexts, staged environments and imaginary terrains.
On 3 October, 2013 from 20.00-22.00, High & Low Bureau will be present in the SMBA to speak further about their practice in relation to the subjects and materials presented in the film programme, together with the curator of 'Scenographies', Clare Butcher.
Included in the film programme are works by: Gabriel Lester, Maria Pask, Dimitri Venkov, Jan Dibbets, Nevet Yitzhak, Allan Sekula & Noel Burch, Artur Zmijewski among others.