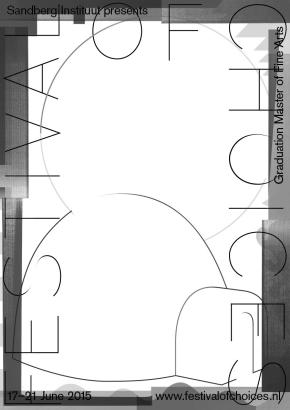 A Festival of Choices - Sandberg Instituut
17 - 21 June 2015

Opening: Wednesday 17 June, 6-9 p.m.
With: Kent Chan, Yazan Khalili, and Gerard Ortín
Stedelijk Museum Bureau Amsterdam welcomes Kent Chan, Yazan Khalili and Gerard Ortín during A Festival of Choices, initiated by the Master of Fine Arts program of the Sandberg Institute, as part of their graduation. Each in their own way, the three artists have explored the connection between aesthetic experience, fiction, and the perception of landscapes and environments. With rich visual and conceptual resources, their works draw upon cinematic language but follow their own storyline as they shatter narratives into images or the other way around. Their videos and photography demonstrate that the perception of natural, man-made and fictional spaces is highly ambiguous and subjective, as its meaning can easily be altered.
A Festival of Choices emphasizes the relationships and choices made by the graduating students among the diverse institutions and organizations in the cultural landscape of Amsterdam. For other presentations and locations, please consult the website www.festivalofchoices.nl.
Fictions by Kent Chan is an endeavor at situating artworks within fiction. It presents a series of episodic films entitled the Sandberg Series, which looks at the uncanny relationships between artists and artworks, and artworks and our world. Set in the Sandberg Institute, it is a tongue-in-cheek attempt to recall the myth of the curatorial pioneer and enigmatic figure, Willem Sandberg.
Blindness of Love by Yazan Khalili is a set of works in which love, pain, and the materiality of the image are woven together through the act of gazing into the landscape, creating narratives and stories that bring into existence the image of absence and disappearance, culminating in the question: how does one regard his/her own pain?
Gerard Ortín explores landscape through two specific motifs: caves and cascades. Caves are used as an artifice to raise questions about the construction of landscape through images. Using image-recognition exercises, caves are presented as unstable objects upon which we project and fix variable associations in an effort to reassert their cultural character. Cascades function as specular elements, as mental images, as cinematic entities — both static and in motion. Rather than functioning as typologies or as metaphoric landscapes, these two motifs become structures to strip out an overflowing and elusive notion of nature.