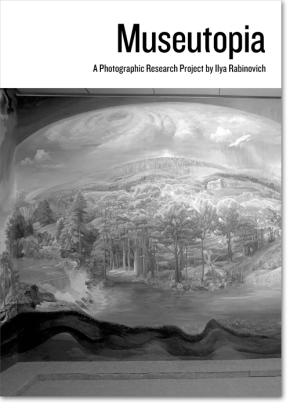 Book Presentation 'Museutopia, A Photographic Research Project' by Ilya Rabinovich
Friday 27 April, 7:30 – 9:30 pm

Free admission, lectures in English

Reservations can be made by sending an e-mail to mail@smba.nl
Stedelijk Museum Bureau Amsterdam and Alauda Publications cordially invite you for the launch of the publication Museutopia, A Photographic Research Project by Ilya Rabinovich.

During the evening the curator and art critic Viktor Misiano will give a lecture and the philosopher and cultural scholar Huub van Baar will introduce the book Museotopia. Following the two presentations, there will be a roundtable with the lecturers and the artist, moderated by curator Annie Fletcher.
In 2008 Ilya Rabinovich travelled to his birthplace Chisinau in Moldova to photograph the exhibitions in its national museums. Here he encountered a remarkable process, which led to the photographic project Museutopia. The country, formerly known as Moldavia, was annexed by the former USSR in 1940 and remained under Soviet rule till 1991. This period of its history has become distorted or totally erased in the national museums. Each museum orchestrates its own ideal image of Moldova.
On Rabinovich's photographs, the exhibited museum artefacts appear in the midst of curious wall paintings, models and display cabinets, as if they were from a mythical world, rather than documents of the national historical past. In themselves, the photographs are pleasing to the eye and appeal to the viewer with their nostalgic traces. Yet, they also reveal an entirely different narrative to those who allow themselves to be guided further by the sensitive eye of the photographer. In what ways do these museums contribute to the formation of new cultural and national identities? Ultimately, Rabinovich's work encourages us to rethink the influence of historical canons and shifting cultural policies in post-1989 European museums.
Programme of the Evening:
19.30: Welcome by Jelle Bouwhuis

19.40: Lecture by Viktor Misiano

20.10: Introduction of Museutopia by Huub van Baar

20.25: Discussion with Huub van Baar, Viktor Misiano and Ilya Rabinovich (moderator: Annie Fletcher)

21.00: Drinks
Ilya Rabinovich was born in Chisinau , Moldova (former USSR) in 1965 and emigrated with his family to Israel in 1973. He obtained a Bachelor of Fine Arts from the Bezalel Academy of Design and Art in Jerusalem in 1994. From 1998 to 2000, he participated in the artist-in-residency programme at the Rijksakademie van Beeldende Kunsten in Amsterdam, where he continues to be based. Rabinovich's work is informed by his émigré experience and primarily deals with issues of identity and memory. His photographs are noted for being austere and enigmatic, 'show[ing] places in terms of their fleetingness, remoteness, as if they were bereft of memories.'
Viktor Misiano (Moscow, Russia, 1957) is an art critic and curator. From 1980 until 1990, he was -Curator of Contemporary Art at the Pushkin National Museum of Fine Arts in Moscow and, from 1992 to 1997, Director of the Centre for Contemporary Art in Moscow. He curated the Russian participation in the Biennales of Istanbul (1992), Venice (1995, 2003) and Valencia (1999) and took part in the curatorial team of the Manifesta I in Rotterdam in 1996. He is a co-founder and chief editor of The Moscow Art Magazine (since 1993) and of Manifesta Journal (since 2003). In 2005, he curated the first Central Asia Pavilion at the Venice Biennale. Viktor Misiano is an honorary doctor of the Helsinki University for Art and Design. Photo: Helmut Newton.
Huub van Baar (The Hague, The Netherlands, 1970) is a research fellow at the Amsterdam School for Cultural Analysis (ASCA) at the Faculty of Humanities of the University of Amsterdam. Between 2003 and 2009, he participated in an international collaborative research project on the impact of cultural globalization on the transformation of Central and Eastern Europe after the fall of Communism. He is the author of The European Roma: Minority Representation, Memory and the Limits of Transnational Governmentality (Amsterdam, 2011). His research includes analyses of museum and memorial practices in post-Communist Europe, transnational minority activist networks and newly emerged forms of minority governance and citizenship practices in Europe. His work focuses particularly on past and current forms of Roma minority governance in Europe and how they relate to different representations and conceptualizations of Europe. His work has appeared in various scholarly journals, such as Third Text, the International Journal of Cultural Policy and the Journal of Ethnic and Migration Studies.
This publication is made possible to the generous contribution of Mondriaan Fund, SMBA, Materiaalfonds and the Gijselaar-Hintzen Fund
Museutopia, A Photographic Research Project by Ilya Rabinovich; editors: Huub van Baar, Ingrid Commandeur; contributors: Viktor Misiano, Huub van Baar, Stefan Rusu, Bogdan Ghiu; design: Esther Krop; Hardcover; 184 pages; English; ISBN: 9789081531405; Euro 29,95.