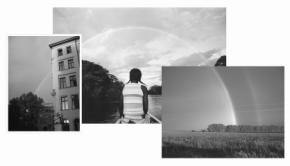 BijlmAIR - Amalia Pica
Together with the Centrum Beeldende Kunst Zuidoost the Stedelijk Museum Bureau Amsterdam developed a residency program called BijlmAIR in the Zuidoost district of the city. Each residence is closed off with an artist presentation.
During her stay the artist Amalia Pica conceived the project 'Grayscale'. In Grayscale she uses photographs of rainbows, or parts of them, that she has received from people who ? often by chance ? recorded this natural phenomenon on film. The images are printed as black and white posters and then hung up as collages at various locations in Amsterdam Southeast, so that together they again form a complete rainbow. In this way the photos each become a sort of piece in a puzzle. For Pica the rainbow not only refers to the age-old symbol of hope. Grayscale plays with the idea of finding the space between the wish to be alike, and the right to express yourself as an individual. By printing the rainbow and its colour spectrum in black and white Pica tries to introduce a new layer of meaning into the cliché that a rainbow symbolises hope. Posters from Grayscale are being distributed among visitors to the CBK.
August 24 - September 22

Opening: August 24, 5 – 7 p.m.
Location:

CBK Zuidoost, Bijlmerdreef 119
Amalia Pica (b. 1978, Argentina) lives and works in Amsterdam. In 2004 – 2005 she studied at the Rijksakademie. Pica's work was to be seen in the group exhibition 'We All Laughed at Chri
stop
her Columbus' in SMBA, summer 2006, among other shows.
BijlmAIR is a project of the Centre for Visual Arts Southeast and Stedelijk Museum Bureau Amsterdam. Info: www.cbkzuidoost.nl