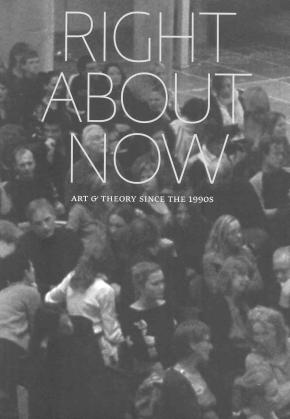 Right About Now. Art and Theory since the 1990s
De essaybundel Right About Now: Art & Theory since the 1990s is verschenen naar aanleiding van de gelijknamige lezingenreeks die in 2006 plaats vond met onder anderen Nicholas Bourriaud, Hal Foster en Deborah Cherry. Al deze lezingen zijn nu in deze publicatie verwerkt. Aan de hand van de zes thema?s, The Body, Interactivity, Engagement, Documentary Strategies, Money en Curating, geeft de bundel een breed en actueel overzicht van de belangrijkste ontwikkelingen, thema?s en ideeën in de beeldende kunst van de jaren 90. Het uitgangspunt van Right About Now: Art & Theory since the 1990s is de constatering dat de grote artistieke verscheidenheid van de laatste vijftien jaar maar mondjesmaat van theoretische reflectie en historische context is voorzien. Geheel anders was dat in de voorafgaande decennia. In de jaren ?90 lijkt toch vooral de kunst zelf, en de ervaring die zij oplevert, centraal te staan. lees meer...
Titel: Right About Now: Art & Theory since the 1990s

Redactie: Margriet Schavemaker, Mischa Rakier

Essays: Jennifer Allen, Sophie Berrebi, Claire Bishop, Beatrice von Bismarck, Maaike Bleeker, Jeroen Boomgaard, Nicolas Bourriaud, Deborah Cherry, Hal Foster, Vít Havránek, Marc Spiegler, Olav Velthuis en Kitty Zijlmans Taal: Engels

Omslag: 184 p. / gebonden /

soft cover / 17 x 24 cm / zwart wit illustraties

Verkoopprijs: 19,50 ? /

ISBN: 9789078088172

Uitgave: Valiz Publishers i.s.m.

Right about Now, UvA, W139, SMBA

Jaar: 2007