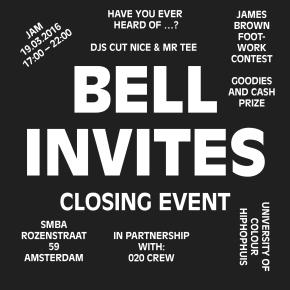 BELL invites: JAM
The exhibition 'BELL invites' goes out with a bang on Saturday 19 March!
Date: Saturday, 19 March 2016
Time: 5:00 p.m. – 10:00 p.m.
(A conversation programme will take place between 5:00-7:00 p.m.)
Location: SMBA
For the last six weeks, the exhibition BELL invites has been an active space of participation, with the collective painting of murals, discussion groups, dance interventions, and DJ sessions organised in collaboration with HipHopHuis, Rotterdam; and in partnership with the University of Colour, Amsterdam.
The closing event of the exhibition, bought to SMBA by Scott Everduim of Super Funk and the 020 Crew, will unfold as a HipHop-style get together – a "JAM" - for the sharing of ideas and the dance floor. Music will be selected by Cutnice and Mr Tee throughout the night, and the James Brown Footwork Contest will be open to all, first timers welcome!
Between 5:00 p.m. and 7:00 p.m., the University of Colour (UoC) will lead us into Dialogues of Resistance, by way of prompts such as 'Have you ever heard of…?', which recalls the period spent by UoC during the liberation of the Maagdenhuis. Here they shared the knowledge of decolonial thinkers and figures from anti-colonial history that remain absent in standard education. For the final night of 'BELL invites', UoC expand this project to include significant artists and leaders who are familiar to the public, but also (members of) social movements that are underrepresented in popular culture.
The exhibition BELL invites features Richard Bell—one of Australia's most renowned and challenging artists—and his long-time collaborator Emory Douglas (former Minister of Culture of the Black Panther Party), as well as local artists HOSSELAER (Farida Sedoc), and Brian Elstak. The exhibition at SMBA is curated by Vivian Ziherl (guest curator) and co-curated with Aruna Vermeulen, in partnership with the University of Colour.
------------------------------------------
Visual: Julie Peeters