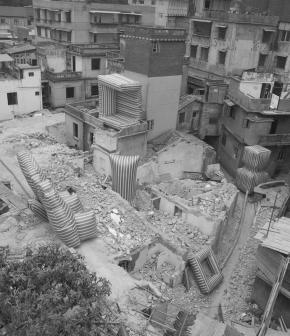 Booklauch: Kaleb de Groot & Roosje Klap
'Exquisite Gunpowder City 16 Shot'
Thursday, 10 July, at 8:00 p.m.

Stedelijk Museum Bureau Amsterdam

Free admission
The official launch of the book Exquisite Gunpowder City 16 Shot, by the artist Kaleb de Groot and graphic designer Roosje Klap, is to take place in SMBA. Prior to the honorary presentation of the first copy, the artists will present a performance in cooperation with Huib Haye van der Werf, based on a scenario by Nina Thibo.
The work Exquisite Gunpowder City 16 Shot by Kaleb de Groot and Roosje Klap is the first book that the duo have done together. The book ? or rather, an artwork ? came into being as a result of a residency in the Chinese European Art Center in Xiamen in China during the winter of 2007/2008. There they worked on an exhibition project surrounding the themes of implosion and explosion in the widest sense of these terms: in architecture, relations, material or emotional, form, persons. That all resulted in this artists' book, in which the residuum of modernist society are investigated on the basis of texts, drawings, photography and pop-ups.

For Exquisite Gunpowder City 16 Shot Kaleb de Groot and Roosje Klap asked four writers from various backgrounds to provide a contribution for the book. Nina Thibo (Mr. Motley, Powerplant) wrote stories based on the images that Klap and De Groot sent her by e-mail from China. These stories eventually comprised a quartet. At the request of Klap and De Groot war reporter Joeri Boom (of the Groene Amsterdammer) wrote about the beauty of destruction, asking whether such a thing can really exist. Artist and curator Florian Wüst contributed an essay on the bizarre life and work of Robert J. Oppenheimer, and curator Huib Haye van der Werf (from the Netherlands Architecture Institute) wrote a disquieting Manifesto about residencies, thereby stirring up the current debate.
Ann Theobald, director of Revolver Books:

?This book is raving. I was so surprised when I opened it, it is so full of work and energy and time and enthusiasm, I was really amazed. I am honored to publish such a wonderful and thoughtful (and still not boring...) book!?

Carin Kuoni, director of the Vera List Center for Art and Politics, New York:

?[?] your firecracker concoction from China is as eccentric a book as I've ever seen, with cardboard stock followed by onion skin, just startling and provocative.?
Several of the images that Klap and De Groot made in Xiamen will again be called to life for the performance with which the book will be launched on 10 July in SMBA. The script and text for the performance is written by Nina Thibo. The sound and technical aspects will be overseen by Nathalie Bruys; Maaike Gouwenberg is responsible for the dramaturgy.
Exquisite Gunpowder City 16 Shot

Concept, editing and design: Kaleb de Groot & Roosje Klap

Year: 2008

Actors: Nina Thibo, Joeri Boom, Huib Haye van der Werf, Florian Wüst.

Languages: English / Chinese.

Production: 144 pages, sewn binding / full colour, 2 pantones /

Linnen hard cover with foil and screen print / 21,5 x 29,5 cm /

Sales price: 35,- euro / during this launch at a special pre-publication price of 25 euro!

Publisher: Revolver Books, Frankfurt;

ISBN: 978-3-86588-458-9
The publication was made possible by support from the Fund for Visual Arts, Design and Architecture.