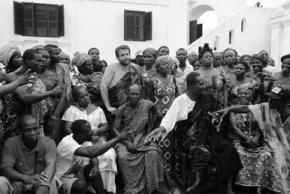 ELMINA
Doug Fishbone & Louise Muller
22 February 2011
SMBA organizes, in collaboration with the Netherlands Media Art Institute (NIMk), a screening of the film Elmina, in the presence of the artist Doug Fishbone, who plays the lead role in the film. The evening will be introduced by historian Louise Muller, a specialist in the field of Ghanaian film.
The film Elmina tells the story of a small Ghanaian village where the oil that is discovered in the ground causes an upheaval for the villagers. They are forced to sell their land to large, corrupt multinationals – a scenario that is common enough in reality. There is however an important twist in the film: although the whole project was produced by Ghana's Revele Films & Flatbush Films, and well-known African actors appear in the cast, the white artist Doug Fishbone performs the principal role.
Work by Fishbone, an American living in London, stresses our modern consumer culture, in which greed, violence, indifference and perversity are frequently recurring subjects. He generally packages this with provocative humour, but Elmina is certainly not just comic. As Louise Muller observes, "The film calls up questions about the concept of 'white' (oburoni) in the Ghanaian context. Although the leading actor is white, he plays an African, and it is precisely the Chinese in this film who are often designated with the term oburoni, or white, by the local population. Fishbone succeeds in showing that – in contrast to the West - in Ghanaian eyes 'being white' is not based on racial distinctions but on cultural distinctions, and that culture – as, for instance, the Ghanaian philosopher Kwame Appiah notes – can to a certain extent be learned."
The historian and philosopher Louise Muller is a researcher at the University of Utrecht, where she is presently surveying the significance of 'Ghallywood', the intensive Ghanaian film production, particularly for the Ghanaian diaspora in Amsterdam. She will introduce the evening, and after the screening will engage in a dialogue with Fishbone and the audience.
Take a look at the trailer.
The event takes place in the framework of Project '1975'.
Additionally, Elmina will be shown in NIMk from Tuesday February 22nd until Saturday February 26th (Tue - Fri. 11am - 6pm, Sat. 1pm - 6pm).
Screening & Talk:

Tuesday 22 February

Location:

Nederlands Instituut voor Mediakunst, Keizersgracht 264 Amsterdam

Start: 8 pm

Language: English

Admission: Free
Please notify at mail@smba.nl (reservation not required)