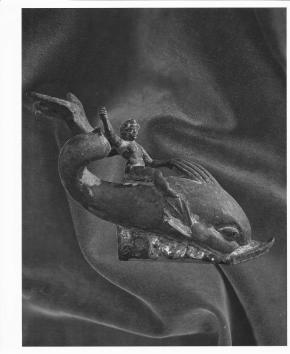 Flying Boxes etc.
A lecture/performance by Christoph Westermeier
Sunday, 12 August 2012

5:00 - 6:30 p.m.
This Sunday, 'The Memories Are Present' exhibition closes with Flying Boxes etc., a lecture/performance by Christoph Westermeier. During the event, Westermeier illustrates and comments on the development of object photography over the past 60 years. Absurd image compositions, errant shadows and flying objects will be the focus of the event.
Flying Boxes etc. illuminates the artistic work process that informs and precedes Westermeier's final works, one of which is presented in 'The Memories Are Present'. The artist contributed the installation Barbarian & Classics to this exhibition, consisting of photographs he made of postcards and other image resources depicting objects from diverse museum collections. Westermeier re-photographed these resources according to his own, overtly subjective, standards. Generally speaking, Westermeier's work emphasizes exactly those technical mistakes which professional object photographers try to avoid or conceal through manipulation.
Sunday afternoon will also be the last chance to see Westermeier's Barbarian & Classics in this exhibition, which further features an installation by Artun Alaska Arasli and a selection of works by Pauline M'barek.
The lecture/performance will be in English.