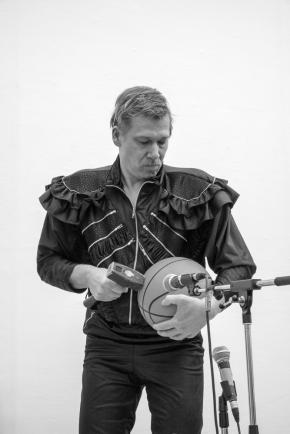 Museum N8
with performance-lecture Peter Fengler & guided tour by Angela Harutyunyan
Saturday 1 November 2014
Opening hours: 7:00 p.m. – 2:00 a.m.
Location: SMBA
Museum N8 in Amsterdam with the performance-lecture PAPERWORK by Peter Fengler in SMBA at 8:00 p.m., a guided tour by Angela Harutyunyan at 9:00 p.m., and pop-up tours during the night.
PAPERWORK 8:00 p.m.
Artist Peter Fengler presents a performance-lecture in which he plays, translates, and acts out various publications and sound recordings with appliances and his voice. A newspaper becomes a vinyl record, but also remains a newspaper and a sculptural object. The performance offers a blend of sounds in which the medium and the message melt into each other.
Guided tour by curators 9:30 p.m.
Co-curator Angela Harutyunyan will walk through the exhibition This is the Time. This is the Record of the Time and explain in which ways the exhibition and the invididual works activate different temporalities and calls on us to pause and reflect, even if only for a moment. Furthermore, she will clarify how the artists have investigated to what extent the recording mechanisms and material recordings of our lived times represent and influence our perception of temporality.
--------------------------------------------------
Peter Fengler focuses on the relations between sound, performance and visual arts. Fengler uses record cutting techniques to capture sounds that are produced by "performative" acts that (mostly) take place in his studio. In contrast to a composer or a musician, who thinks of the record first and foremost as a vehicle transporting their musical ideas, Fengler is especially interested in the optical, physical and acoustical presence of the record. Fengler has exhibited and performed at Van Abbemuseum, Eindhoven (2010); Living Art Museum, Reykjavik; De Vleeshal, Middelburg (2011); Mousonturm, Frankfurt (2012); CC Strombeek, Strombeek-Bever, Belgium; Sonic Protest in Paris; Warteck, Basel (2013), among others. He is also co-founder and artistic director of DE PLAYER, an interdisciplinary production and presentation platform for art, sound and performative matters.
Dr. Angela Harutyunyan is Assistant Professor of Art History at the American University of Beirut. She is Associate Editor of ArtMargins, a new peer-reviewed journal on art practice and art historiography published my MIT Press. Her research interests include methods of (art) historiography, art and autonomy, post-Socialist art of Eastern Europe and the former Soviet Union, contemporary art in the Middle East, methods and theories of exhibitions.