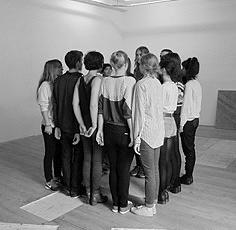 Museum Night: Performance Cindy Moorman
Saturday 2 November, 7 p.m. – 2 a.m.
7:45 – 8:30: Performance Cindy Moorman*

8:30 – 0:00: Guided Tours & Film Screening
This year the program of Museum Night in SMBA is part of the 'Scenographies' exhibition and events program which is based around the archive of SKOR | Foundation for Art and the Public Domain. Various contributors, invited by guest curator Clare Butcher, each worked successively within a flexible exhibition design by Antonis Pittas. The result is a fragmented 'scenography' in SMBA taking shape from September to mid-November – as each successive 'act' of the exhibition and events reflects on a legacy of public art commissioning and the challenges posed by location, creation, presentation and preservation in a shifting cultural terrain.
For Museum Night, as the next 'act' in 'Scenographies', Cindy Moorman presents a new performance in which dozens of acrobats and gymnasts will create several geometric shapes in the space. Their living sculptures refer to the more monolithic artworks of public art commissions which emerged in the 1960s and '70s, when parks, public squares, hospitals and the entrances of countless corporate buildings were inhabited by seemingly permanent large sculptures of stainless steel or granite. Moorman's performative installation reanimates this sculptural tradition, relating it to a human scale, notions of fragility and also theatricality.
Immediately after the performance there will be short guided tours through the exhibition 'Scenographies'. Next to that, as part of the 'Constructed Sceneries' film program by High&Low Bureau, the film 'The Forgotten Space' (2010) by Allan Sekula and Noël Burch will be screened continuously. This film was made on the occasion of the construction of the 'Betuwe-lijn': a transport railway that runs from the harbour of Rotterdam to the Ruhr area in Germany. The Dutch municipality Lingewaal commissioned a public artwork that was subsequently facilitated by SKOR in a film production by Allan Sekula and Noël Burch. The film won the Orrizonti jury price at the 67 Vince Film Festival in 2010.
* Doors close temporarily at 8:00 p.m. until end of performance & access only with Museumn8 passe-partout
For tickets and info:museumnachtamsterdam.nl
------------------------------------------
More in the 'Scenographies' program:
07.11.13, 8 p.m. – 10 p.m.

Cindy Moorman will be engaged in a public discussion with Alexandra Landré as part of the Prologues series of artist talks
03-17.11.13

Francis Burger, 'Noon Eye' (2013), final 'act' in the 'Scenographies' exhibition
14.11.13, 8 p.m. – 10 p.m.

'Change of Scene' panel discussion with Jeroen Boomgaard, Tom van Gestel, Kerstin Niemann, Jorinde Seijdel, and more.
16.11.13, 3 p.m. – 5 p.m.

Francis Burger in a public conversation with Alexandra Landré, Prologues series of artist talks
------------------------------------------
'Scenographies' is an initiative of the Lectoraat Art & Public Space (LAPS), Gerrit Rietveld Academie, in cooperation with Stedelijk Museum Bureau Amsterdam (SMBA), and supported by SKOR | Foundation for Art and the Public Domain.
Contributors to 'Scenographies' include: James Beckett, Francis Burger, High&Low Bureau, informal strategies, Alexandra Landré, Cindy Moorman, Antonis Pittas, and more.
The project of Cindy Moorman is supported by the AFK (Amsterdam Fund for the Arts).