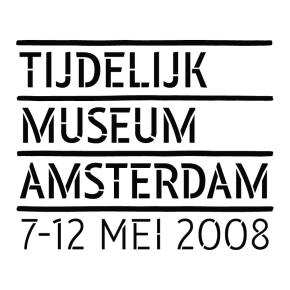 Studium Generale in SMBA
This spring SMBA plays host to a part of the Studium Generale, the public lecture series of the Gerrit Rietveld Academy, 2008. The whole series of lectures will be taking place at various locations under the umbrella title 'Welcome Between Past and Future. Welcome in the World as it is'. The six lectures at SMBA are entitled 'Value for Nothing'. They will revolve around the question of what values designers and artists should be focusing on today, if design is a matter of creating values. Beginning from various perspectives such as tradition, cultural differences and public interaction, the lectures will attempt to formulate an answer to that question. The moderator and interlocutor at the lectures will be Tori Egherman. She is an author and researcher in the field of design.
The lectures will be in English

Free admission

All lectures begin at 4:00 p.m. in SMBA
The following speakers are scheduled:
06/02/2008

Annelys De Vet (designer)

?Subjective Atlas Of Palestine?
13/02/2008

Dirk Sijmons (architect)

?Windmills And Dutch Landscape?
20/02/2008

Ben Laloua / Didier Pascal (graphic designers)

?Rehab?
05/03/2008

Sabrina Lindemann (artist)

?Art As Public Space?
12/03/2008

Merel Mirage (artist)

?The Holy Animation Platform?
19/03/2008

Frank Tjepkema (designer)

?Economics and Symbolic Richness?
Each year the organisers of the Studium Generale approach a different institution as host for the series. Previous locations were the Stedelijk Museum, Smart Project Space, W139 and Montevideo.
Click here, for more information about the Studium Generale