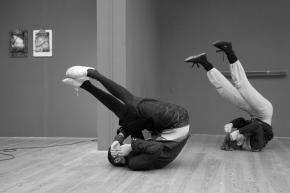 Tamara Kuselman – Free Fall
Sunday, 10 January 2016
11:00 a.m. – 5:00 p.m.
SMBA has invited artist Tamara Kuselman to develop a performance in response to the exhibition Antonis Pittas – hold on. Free Fall is a performance about the movement of a body when gravity is the only force acting upon it. For humans this movement through space represents a physical experience in which it is difficult to orient or to establish a relationship with the direct surroundings.
Kuselman will work with Oneka Phon Schrader and Louis Vanhaverbeke, dancers who will expose the concept of free fall through a series of movements and informal discussions with the audience. The performers will take over the exhibition space where Pittas's artworks have been installed and activate different elements in it. They might hold on to something, lie on top of it, move it about, or interact with it in other ways so that a constellation of objects orbiting through the space arises. Kuselman designed clothing for the performance in collaboration with textile designer Suzanne Kollen, and she will produce a series of ceramic objects for the performance as well. The performance will take place during opening hours on 10 January 2016, as a conclusion of the exhibition.
Tamara Kuselman (Buenos Aires, 1980) obtained her MFA at the Sandberg Institute in Amsterdam. She has had solo exhibitions at Jeanine Hofland (Amsterdam, 2014) and Sala Muncunill (Terrassa, 2011) among others. Her performances include The Schizophrenic prop at Guest Projects (London, 2015), Don't let your heat slip away at CA2M, (Madrid, 2014), Still live with Blackcocks at De Appel Arts Centre (Amsterdam, 2013), The Power of Now, Rita McBride's Blind Dates in MACBA (Barcelona, 2012). She has participated in group shows such as Collective Fictions at Nouvelle Vagues at Palais de Tokyo (Paris, 2013) and The Suspicion of Suspense at Trafó Gallery (Budapest, 2012) among others. In 2014 she was a resident at The Banff Centre in Canada. In 2015 Kuselman was awarded the Generaciones grant from Fundación Montemadrid in Spain.
-------------------------------
Tamara Kuselman's performance Free Fall is made possible with the support of the AFK (Amsterdam Fund for the Arts) and Stichting Stokroos.