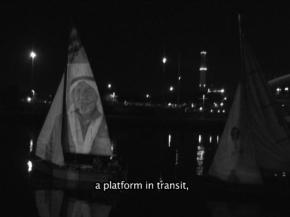 The Exterritory Project Symposium
Date: March 15, 2:00 – 5:30 p.m.
Location: Teijin Auditorium, Stedelijk Museum
Language: English
Entrance: Entrance fee to the museum + € 2,50
Reservation: via reservations@stedelijk.nl
The Stedelijk Museum is proud to present The Exterritory Project Symposium in close collaboration with SMBA. The symposium brings together artists, scholars, and curators who will explore the idea of extraterritoriality: a conceptual space beyond the borders of nation-states and their laws and beyond the modern geographical divisions of the world. It is a continuation of the Exterritory Project, initiated by artist duo Ruti Sela & Maayan Amir.
THE EXTERRITORY PROJECT SYMPOSIUM

This edition of the Exterritory Project Symposium in the Stedelijk Museum will survey the extraterritoriality of cyberspace, military hardware, state intelligence, and infrastructures of international peacekeeping missions. In recent decades both advanced technologies as well as transnational military operations have produced various jurisdictional difficulties, as territorial borders of a single legislative institution or sovereign authority do not bind these functioning zones and the people that use and inhabit them. Therefore the World Wide Web, with its correlating technologies, as well as peacekeeping operations necessitate examinations of the concept of extraterritoriality, both within the history of Western jurisprudence and in speculative theories about the relationships between space, technology, and forms of government.
Ruti Sela & Maayan Amir will discuss their new video work Image Blockade, which they have developed as a commission for the New Museum Triennial 2015. Image Blockade looks into the censorship of Israeli secret army intelligence, and Sela and Amir will present parts of it and explain how the work fits into the general aim of the Exterritory Project. Legal philosopher Mireille Hildebrandt (Radboud Universiteit Nijmegen, Vrije Universiteit Brussel, Erasmus Universiteit Rotterdam) will explore extraterritoriality in cyberspace by inquiring into its non-modern spatiality, keeping in mind that the enforcement of human rights depends on territorial jurisdiction and its core of mutually exclusive boundaries of territorial control. Architect Malkit Shoshan (FAST, the Foundation for Achieving Seamless Territory) will investigate the extraterritoriality of infrastructures that are created for United Nations and NATO peacekeeping and reconstruction missions around the world, from Kosovo to Iraq and Afghanistan. Professor and architect Eyal Weizman (Goldsmiths, University of London) will consider (via Skype) the extraterritoriality of drone warfare, to highlight the territorial and architectural dimension of military campaigns in territories of weaker states by the military apparatus of dominating powers such as the United States. Research curator Steven ten Thije (L'Internationale museum confederation, Van Abbemuseum) will moderate the symposium. All contributions will be collected in an artist's book of research that brings together existing research on extraterritoriality as well as to encourage new thoughts on the concept.
THE EXTERRITORY PROJECT

The project was conceived in 2009, when Ruti Sela and Maayan Amir projected artworks of artists from the Middle East onto the sails of boats located in exterritorial waters – an autonomous region outside the confines of any one national territory. The project's point of departure was the wish to become a platform in transit, sailing on exterritorial waters as an attempt to offer artists, curators and thinkers from various conflict-ridden areas an alternative conceptual and geographical sphere for artistic and discursive exchange that would bypass the laws of territory and nationality. The practice of the Exterritory Project is based on initiating different interventions aiming to explore and create varied forms of exterritorial spaces and exterritorial epistemologies.

The Exterritory Project takes form in at-sea events, on the internet, in scientific experiments, research, public symposiums, and in other interventions, attempting to create alternative situations for encountering, researching, discussing, and art-making and to generate networks of intellectual and professional connections that transcned national politics and social hierarchies.
MORE ABOUT THE SPEAKERS

Maayan Amir is an artist living and working in Tel Aviv. She holds and MFA in cinema and is completing her PhD at the 'Center for Research Architecture' at Goldsmiths University of London. She edited a book about Israeli documentary cinema which was published on 2008. She curated many exhibitions in different venues. Her collaborative works with Ruti Sela are shown internationally in in the Sidney Biennale (2006) Istanbul Biennale (2009), Berlin Biennale (2010) and venues such as Centre Pompidou (Paris), Art in General (NY), Tate Modern, Jeu de Paume, Ludwig Museum, HKW, Fondazione Sandretto Re Rebaudengo among many others. In 2009 she initiated together with Ruti Sela The Exterritory Project for which they have won an award (2011) for young artist from the The United Nations Educational, Scientific and Cultural Organization (UNESCO). She is teaching Theory at Haifa University MfA program, Sapir Academic College Technion and at other academic institutions. Throughout 2011, she has been a guest resident at the Rijksakademie, Amsterdam.
Mireille Hildebrandt is a researcher and professor in the fields of law and technology at the Radboud University Nijmegen and the Vrije Universiteit Brussels. Being involved in both law and philosophy, her research interests concern the relationship between the emerging socio-technical infrastructure (Internet, Web 2.0, Ambient Intelligence) and the autonomy of the human subject that is both presumed and produced by constitutional democracy. Currently, Hildebrandt holds the chair of Smart Environments, Data Protection, and the Rule of Law at the Institute for Computing and Information Sciences at Radboud University Nijmegen and she is a research professor of technology law and law in technology at the Research Group for Law, Science, Technology, and Society at the Vrije Universiteit Brussels. She is also an associate professor of jurisprudence at the Erasmus School of Law, Rotterdam.
Ruti Sela is a video artist living and working in Tel Aviv, Israel. Through her work, Sela actualizes ethical aspects of the registration, screening, and distribution of video images. In her video installations she investigates issues such as authority, sexuality, and nationality with a handheld video camera. Furthermore, questions of boundaries, socio-political constructs, and mechanisms that create notions of "The Other" are explored in her oeuvre. She teaches at Haifa University and the Avni Institute of Art and Design and also heads the video art program at the Midrasha Art School. In 2009 she and Maayan Amir initiated the Exterritory Project, a platform in transit using exterritorial spaces (both theoretical and physical) for critical thinking and knowledge production in art and culture.
Malkit Shoshan is an architect born in Haifa, Israel, working and living in Amsterdam. She is the founder and director of the architectural think tank FAST, the Foundation for Achieving Seamless Territory. Her work explores and highlights relations between architecture, politics, and human rights. Shoshan is the author of the award-winning book Atlas of the Conflict (2010), which is the result of a ten-year, in-depth study of the Israeli-Palestinian conflict displayed in maps, diagrams, and text. Currently, Shoshan is working on a PhD at the architecture faculty of the TU Delft. Her work investigates relationships between design, architecture, planning, politics, and activism in Israel/Palestine, Georgia, Afghanistan, Iraq, Kosovo, and the Netherlands.
Steven ten Thije is a researcher, teacher, writer, and advisor, currently involved in The Uses of Art, a project by the L'Internationale museum confederation that runs from 2013 until 2018. L'Internationale is a joint project of six major European museums, coordinated by the Van Abbemuseum. They investigate a space for art within a non-hierarchical and decentralized international network, based on the value of difference and horizontal exchange among a constellation of cultural agents, locally rooted and globally connected. Ten Thije holds an MA in both art history and philosophy and finished his PhD in 2013 that was set up as a joint effort by Hildesheim University and the Van Abbemuseum. He was part of the curatorial team of the exhibition program Play van Abbe in the Van Abbemuseum.
Eyal Weizman is an architect, professor of visual cultures, and director of the Centre for Research Architecture at Goldsmiths, University of London. Since 2011 he has directed the European Research Council-funded project Forensic Architecture, studying the place of architecture in international humanitarian law. He has been a founding member of the architectural collective DAAR in Beit Sahour/Palestine since 2007. Weizman is a regular contributor and an editorial board member for several journals and magazines including Humanity, Inflexions, and Cabinet, where he edited a special issue on forensics (issue 43, 2011). His books include Mengele's Skull (2012), Forensic Architecture (2012), The Least of all Possible Evils (2011), Hollow Land (2007), A Civilian Occupation (2003), the series Territories 1, 2, and 3, and Yellow Rhythms.
--------------------------------------------------
The symposium is generously supported by the Embassy of Israel in the Netherlands.