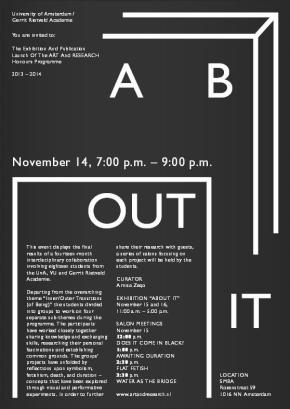 About it

about-it-invitation.pdf (20 Kb)

14 November - 16 November 2014
Opening and book launch: Friday, 14 November 7:00 - 9:00 p.m.
Participants: Anastasija Pandilovska, Annemiek Geel, Baha Görkem Yalim, Bastien Gachet, Brenda Guesnet, Céline Hürzeler, Chi Nguyen, Deborah Schrijvers, Florian Jomain, Freja Kirchheiner, Giulia Crispiani, Kristian Mølberg Meyer, Laura Dima, Lenneke Vos, Maïa Wolf, Rosanne van der Voet, Sofia Dupon, Tiemen Wind.
Curator: Arnisa Zeqo

"About it" is the title of the exhibition and publication that display the final results of the 2013-2014 ART and RESEARCH Honours Programme, involving the work of a group of eighteen students from the UvA, VU and Gerrit Rietveld Academie. The aim of this fourteen-month extracurricular programme is to offer a broad and interdisciplinary view of art and research, teaching students that scientific and artistic methods correlate, enrich and overlap each other. As such, it encourages the participants to develop unconventional ways of conducting research as well as innovative forms of presenting it's textual and artistic outcomes.
This year, departing from the overarching theme "Inner/Outer Transitions (of Being)" the students divided into smaller multi-disciplinary groups to develop four separate projects during the programme. The participants have worked closely together sharing knowledge and exchanging skills, researching their personal fascinations and establishing common grounds and methods connecting to the groups' sub-themes. These have unfolded via reflections on symbolism, fetishism, death, and duration – concepts that have been explored through textual, visual, and performative experiments.
In order to further share their research with guests, a set of salons focusing on each project will be held by the students on November 15th between 12:00 p.m. and 4:30 p.m.
More information: www.artandresearch.nl