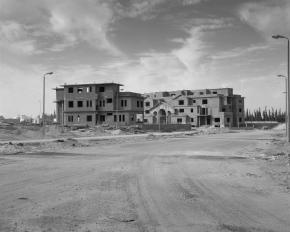 Peripheral (and other stories)
Hala Elkoussy
2 April - 14 May 2006

smba-newsletter-91.pdf (2.24 Mb)

The starting point for the photographic and video work of Hala Elkoussy (b. 1974, Cairo) is the constant change in the relationship between people and their social environment. In this she focuses specifically on the city where she was born, Cairo, a metropolis that exemplifies all of the large urban conglomerates in North Africa and Eurasia when it comes to rapid modernisation and expansion. This Spring the Stedelijk Museum Bureau Amsterdam is showing her project Peripheral, which was previously seen at the Istanbul Biennale in September, 2005.
It is comprised of a video and a number of large landscape photographs. The video, Peripheral Stories, is an effervescent visual essay that takes the viewer along through the suburbs of Cairo, simultaneously illuminating them with testimonies from various residents of the city, texts from media reports, statistics and advertising messages of diverse sorts. During the 28 minutes of Peripheral Stories a picture slowly builds up of the contentious relation of the contemporary resident to the changing social values: frustration, compliance, alienation, acceptance, expectations and doubts about the future in a society that lures with a plethora of consumer goods and new housing complexes that sprout out all around the periphery of the Egyptian capital.

Mai Abu ElDahab, co-curator of Manifesta 6, characterized Peripheral Stories as 'exploring the complex and metamorphic relationship between the centre and the margin defined geographically, economically, socially and/or morally… The viewer undertakes a journey on a Cairene microbus, the physical embodiment of perpetual movement between inside and out, between the individual and the whole: an illustration of the simultaneous proximity and distance in which the two coexist.'
Compared to the dynamism of the video, the photographs Peripheral Landscapes are literally and figuratively an oasis of tranquillity. They capture examples of the construction on the periphery of the city under a luminous light. The serenity of the photographs brings them closer to the age-old building traditions and typologies of rural Egypt, such as forts, archaeological sites and oases, than one might at first expect. The photographs appeal to a multitude of visual languages and reveal Elkoussy's way of combining different genres such as distanced documentary photography and nostalgic romanticism. 'I am interested in how identity is constructed, transformed and expressed through the making, coding and consumption of an image within the parameters of a visual culture – that is, at one and the same time, feeding off, assimilating, recycling and adapting Western popular and mass media imagery while it comes to terms with an inherited discouragement of figurative representation' explains Elkoussy, who presently has a studio at the Rijksakademie in Amsterdam. 'My practice attempts to coin a

personal/public language that takes its cues from the codes of mainstream modes of visual expression, like advertising, and proceeds to push the boundaries of the "photographable" and the "photogenic", as it breaks down and questions socially transfixed roles.