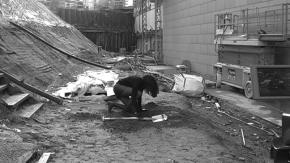 Screens on 11: Karin Hasselberg
22 February - 14 April 2008
The image of a woman digging a hole is being shown on six large screens on the eleventh floor of the Post CSBuilding. She finds herself at a building site and wears a black leather miniskirt; on one foot she is wearing a pump. Her hair falls over her face, rendering her unrecognisable. Hole #12 commissioned by SMBA, performed by the art collector (2008) by Karin Hasselberg is an extremely dry record of a meaningless action, one which, against the background of the sweeping views from the eleventh floor, seems Sisyphean labour.
The digging woman is the art collector that Hasselberg created in 2006 out of dissatisfaction with her own artistic position. Through this alter ego she escapes from her role as an artist, at the same time entering into dialogue with it. The collector buys her works, gives commissions, loves the art that she herself once was on the point of leaving behind her. By means of the collector she discusses the nature of art and her object. Several years before Hasselberg had begun digging holes. What started as a purely physical compensation for her brooding about art became a metaphorical formulation for the question about the functioning of the system. In Hole #9 we see Hasselberg digging a hole on the coast, which immediately disappears again in the rising tide. In Hole #10 she ends up in a heated discussion with the art collector about the question of who should dig the hole. Now drunk, the latter heads off with a shovel to a lake, where tides will be no problem There she loses her shoe. As a response to the six projection screens in Club 11, for recording Hole #12 Hasselberg used six cameras rather than one. By coupling these, the images are practically the same. This specific form not only emphasises the place where the work is being shown, but is also characteristic of the way in which Hasselberg experiences performance, rather than merely envisions it: standing in the midst of the multiple projections, she is just the seventh actor. Art and life are one. Through the performative use of the camera, the club space is permeated with the intense and straightforward, sometimes harrowing question about the nature of the art object. It inescapably forces itself on you: What are you looking at?
Karin Hasselberg (b. Helsingbord, Sweden, 1980) graduated from the Gerrit Rietveld Academy in 2007.
Hole #12 commissioned by SMBA, performed by the art collector
(2008) is to be seen every evening from February 22 through March 14 as part of the 'Screens on 11' programme in Club 11, in the Post CS-Building. Hasselberg is one of three artists who were selected by SMBA for this programme. The others are Claudia Sola and Magnus Monfeldt.
Text by Ilse van Rijn