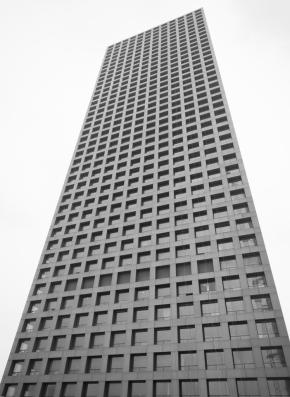 Zachary Formwalt - Three Exchanges

smba-newsletter-139.pdf (500 Kb)

27 November 2014 - 25 January 2015
Opening: Thursday 27 November, 5:00 p.m. - 7:30 p.m.
Stedelijk Museum Bureau Amsterdam presents the solo exhibition Zachary Formwalt –Three Exchanges. In three recent video installations, Zachary Formwalt focuses on the architecture of the new OMA-designed Shenzhen Stock Exchange, and the Amsterdam stock and commodities exchange designed at the end of the nineteenth century by the socialist architect, H.P. Berlage. The three installations dig into a fundamental issue surrounding financial trade: whereas financial transactions seem to dictate our economy and thus their effects can be felt everywhere, the activity of trading itself has become increasingly remote, unavailable for any kind of actual human encounter. The architecture of the stock exchanges serves as a starting point to a profound investigation into the limitations of photography to represent capital and into the interrelationships between financial capitalism and image making.
Zachary Formwalt –Three Exchanges in SMBA is the third exhibition in the series of the Stedelijk Museum's Global Collaborations programme. The exhibition will travel to the Museum of Contemporary Art in Belgrade in January 2015.
In the oldest of his three installations, Unsupported Transit (2011), Formwalt concentrates on the construction site and the construction work on the outside of the new stock exchange in the Chinese city of Shenzhen, designed by Rem Koolhaas's Office for Metropolitan Architecture. Shenzen has a special status as an economic zone where the authorities allow the system of the free market to run its course. The video diptych In Light of the Arc (2013) registers the materialization of the same stock exchange, which is paradoxically marked by an increasing abstraction. Since the stock trade is now entirely controlled by information technology and advanced algorithms, the trading floor itself, with its iconic golden bell, now serves only a ceremonial purpose. In the third installation An Unknown Quantity, realized this year, Formwalt turns the camera to H.P. Berlage's 1903 stock exchange in Amsterdam. How could Berlage, known for socialist driven housing solutions for Amsterdam's working class, match his idealism with the commission of designing this palace of capitalism?
Formwalt's work has become specifically topical due to the worldwide credit crisis of 2007 and the impact of finance and the mechanics of financial capitalism on our economies and our social life. An important and recurrent concern in Formwalt's work is that material outcomes of economic and social processes, such as architectural constructions, can be captured and visualized, but the very financial processes underlying this outcome remain elusive. His photography and especially video work does not rely on images alone, but is usually accompanied with a voice-over, to deal in a substantial way with the complex entanglements of history, capitalism and image making. By juxtaposing images and sounds, Formwalt demonstrates that history, in some ways similar to financial transactions, appears to be insubstantial, almost transparent, despite the fact that various consequences can be observed through the lens.

______________________________________
Zachary Formwalt – Three Exchanges will be accompanied by an SMBA Newsletter with an introduction by Jelle Bouwhuis, head of Stedelijk Museum Bureau Amsterdam. This newsletter is bilingual (Dutch/English) and available for free at the exhibition, and as a PDF on the SMBA website. Coinciding with the exhibition in MoCAB, the publication Zachary Formwalt – Three Exchanges will appear. It features contributions by Jelle Bouwhuis and Zoran Eric (head curator at MoCAB), Dr. Eric de Bruyn (art historian and media theorist, lecturer at Leiden University) and Joshua Simon (director of Museums of Bat Yam, Israel). It also contains the research materials such as texts and photography used in the context of the three video installations.

______________________________________
Debate 'Art, Capital and Avant-Garde' in De Balie, Amsterdam

In relation to the exhibition in SMBA, a debate will be organized in De Balie on Saturday 29 November in collaboration with Amsterdam Art Weekend. With the participation of: Olav Velthuis, Beatrix Ruf, Zachary Formwalt, Matthew Slotover, moderated by Defne Ayas.

More information and tickets at debalie.nl ______________________________________
Zachary Formwalt (1979, Georgia, U.S.A.) studied at the School of the Art Institute of Chicago and at Northwestern University, Evanston, Illinois. In 2008 and 2009 he was a resident at the Rijksakademie van beeldende kunsten in Amsterdam. He has had solo exhibitions at the Kunsthalle in Basel (2009), ar/ge kunst Galerie Museum in Bolzano (2011), Casco—Office for Art, Design and Theory, Utrecht (2010) and Kiosk, Ghent (2013). He has participated in group exhibitions such as 'Monumentalism' at Stedelijk Museum Amsterdam (2010), 'End of Money' in Witte de With, Rotterdam (2011), 'Homo Economicus' at Cabinet Gallery, London (2012) and in Steirischer Herbst, Graz: 'Liquid Assets' (2013). His work is held by several institutional collections, such as the Netherlands Photo Museum and the Stedelijk Museum Amsterdam
______________________________________
Global Collaborations is a three-year project that aims to generate an informed and well-balanced overview of developments in contemporary art from a global perspective. It is based on collaborative partnerships with experimental and multifaceted art institutions throughout the world and encompasses exhibitions, publications, events, and an online platform. The program takes place at the Stedelijk Museum and at Stedelijk Museum Bureau Amsterdam (SMBA), the project space of the Stedelijk. Global Collaborations continues until the end of 2015 and was initiated by Jelle Bouwhuis, head of SMBA, and project curator Kerstin Winking.
______________________________________
Global Collaborations / Zachary Formwalt –Three Exchanges is generously supported by principal benefactors Stichting Ammodo and Mondriaan Fund and made possible with additional support from Outset Netherlands and Amsterdam Fund for the Arts.