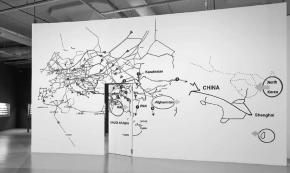 BOOK LAUNCH: Fahrettin Örenli: Conspiracy Wall > ANARTIST
Tuesday 7 April, 2015
Location: SMBA
Time: 7:30 p.m.
Language: English
Admission: free
Reservations: mail@smba.nl
The artist's book Conspiracy Wall > ANARTIST by Fahrettin Örenli will be launched at Stedelijk Museum Bureau Amsterdam. For this special occasion Dr. Asghar Seyed-Gohrab (Leiden University) will give a presentation on Persian poetry in relation to the poems in Örenli's book. After that Fahrettin Örenli will engage into a conversation about his artistic practice and the backdrop of the book with Lorenzo Benedetti (director of De Appel Arts Centre). The artist book will be transformed into an installation in the exhibition space of SMBA from 7 April through 12 April 2015. Coinciding with the book launch and pop-up presentation at SMBA, Örenli will have a solo exhibition at Bradwolff Projects, Amsterdam from 21 March through 2 May 2015.
Fahrettin Örenli's artist's book Conspiracy Wall > ANARTIST (2004-2014) brings together Örenli's literary work (poetry) and his visual artwork (drawing and photography). The book contains depictions of maps (of oil pipelines, for instance), urban landscapes, portraits, public figures and imaginary or real creatures and animals. The work can be seen as a critical voice that expresses current cultural and social developments as well as the artist's function in society and in the art scene. The project deals with the ways in which political and economic problems and actions have affected human life throughout history, and particularly over the last decade. The work observes how these problems have affected nature – the place where existence comes into being – and questions what this might mean for the future. With the work Örenli intends to observe and question today's environment through the feelings it evokes in us as human beings. The aim of the installation is to deal with the complex individual, social and political issues of the age in which we live. The project researches the direct relationship that exists between economics and politics on the one hand and art and education on the other. It critically questions today's cultural and social developments, as well as the language that is used in art and by artists. With this book presentation SMBA wants to give its visitors the chance to discover the interesting stories and research embodied in this work, which the artist created over a time period of ten years.
Fahrettin Örenli: Conspiracy Wall > ANARTIST

Artist's book that can transform into an installation.
Poems and artworks by Fahrettin Örenli.
The poems are printed in varnish and gold/silver foil letter printing (Dutch, English & Turkish – without translations).
Essays by Lex ter Braak 'The Phantom Called Life'; November Paynter 'A Selfish Evolution'; Fahrettin Orenli 'Conspiracy Wall ANARTIST' (English & Turkish).
158 pages (paper interior, munken lynx rough 170 gr. + Book Jacket & Cover munken lynx rough 3000 gr.).
There are hidden photographic images inside French fold pages 66 x 48 cm & four-sided pages with perforated lines to tear out.
Size of the book: 33 x 48 cm & four sided-pages with lines to tear out.
The book was sponsored by the Mondriaan Fund, NL & Ofset Yapimevi, Istanbul, Turkey.
______________________________________
Lorenzo Benedetti (b. 1972, Rome, Italy) is director of De Appel Arts Centre, Amsterdam. Benedetti studied Art history at the University La Sapienza in Rome and attended the 'Curatorial Training Programme' at De Appel Arts Centre.

Fahrettin Örenli (b. 1969, Pertek, Turkey) was resident of the Rijksakademie van Beeldende Kunsten in Amsterdam in 2000-01. He obtained his BA at the Gerrit Rietveld Academie in Amsterdam in 1998. He has had residencies at several places including Platform Garanti Contemporary Art Center in Istanbul (2006/2007), European Art Center, Xiamen City (2004/2005) and the International Studio and Curatorial Program (ISCP) in New York. Örenli lives and works in Amsterdam and Istanbul.

Dr. Asghar Seyed-Gohrab (b. 1968, Tehran, Iran) studied English language and literature and Persian Studies. He is senior lecturer at Leiden University where he teaches classes on Persian and Middle Eastern literature, Islamic mysticism (Sufism), cultural and intellectual interaction between East and West, and Iranian film and cinema.