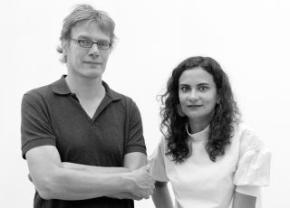 Hala Elkoussy and Jelle Bouwhuis win Abraaj Capital Art Prize
7 September 2009
The artist Hala Elkoussy and SMBA curator Jelle Bouwhuis have won the prestigious Abraaj Capital Art Prize. The announcement was made yesterday evening in Dubai. Elkoussy and Bouwhuis were selected on the basis of a project proposal that can be realised with the money from the prize. The result will be shown next year in the context of the Art Dubai contemporary art fair. In total the prize amounts to $200,000.
The Abraaj Capital Art Prize was established two years ago by Abraaj Capital, a private equity firm headquartered in Dubai. The prize is especially intended to bring greater recognition to artists from North Africa, the Middle East and South Asia (the MENASA region). Three proposals are selected each year. The two other winners of this edition are the Lebanese artist Marwan Sahmarani, together with the curator Mahita El Bacha Urieta, and the Algerian Kader Attia, with curator Laurie Ann Farrell. The Turkish artist Kutlug Ataman was among last year's winners.
Hala Elkoussy lives and works in Amsterdam and Cairo. The Egyptian capital is central to her work, being portrayed through photography, video and installations in which she zooms in on the complex lines along which the modernisation and Westernisation of a metropolis like it impact on the everyday life of its residents.
In 2006 Elkoussy had a solo exhibition in Stedelijk Museum Bureau Amsterdam, 'Peripheral (and other stories)'. Presently her work is to be seen in Museum De Paviljoens in Almere.