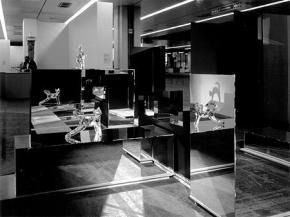 N° 52 The Membrane - And Why I Don't Mind Bad Mooded People
Urs Fischer
16 April - 28 May 2000
Always the Soup of the Day
Urs Fischer comes from Zurich, has lived in Amsterdam for one year and has now been working in London for several months. In the Netherlands his work was shown in the exhibition Morning Glory (1998) at de Ateliers. There he built unsteady walls on a foundation of fresh fruit, which eventually produced a foul odor. The ICA in London has recently shown new sculptures and collages made of various materials such as candlewax, scrap wood, silicon, clay and PVC. Among these were a Medardo Rosso-like bust with its mouth wide open, placed on a rickety table (Gedanken Kommen Zurüch Bitte, 2000), a transparent kitten crouched on a wooden catwalk between two sheets of glass (Glaskatzensex/ Transparent Tale, 2000) and something that looked like an incinerated filmset for an idyllic 'Heidi' pastoral, titled 'Remembering the Polyester Pirate (Instant Apathy)' (2000). The images attest to a pleasant lack of inhibition and uncontrived improvisation. They lend an entirely new dimension to the idea of Swiss precision. Just do it seems to be the motto. This work epitomizes "the best for the time being". Urs Fischer does not concern himself so much with the eternal value of art as with that of the "soup of the day". His studio in the neighborhood of London Bridge is wallpapered with drawings and notes. 'Each work begins with a quick sketch', says Urs Fischer. 'But as soon as I start to work with materials, things go wrong. It doesn't want to stand upright, for instance, and my irritation about that then leads to something else. My work never ends up looking the way I had intended.' That must be frustrating, I suggest, but Urs doesn't think so. 'It's better that way.The imagination cannot really force the material into the desired form. Say you see a beautiful woman and you wonder what it would be like to have sex with her. Once you get to that point, what you had in your head beforehand is never what happens. The reality is different and that's okay. The best thing is to see where it takes you. My work begins with an idea, but the result is often the product of coinciding circumstances.'
I have to think of the American artist Bill Copley, former bon vivant and incorrigible dilettante. His great gift was not being able to draw. If he wanted to render a voluptuous woman and this ended up in scribbling, he would decide, from one minute to the next, to transform the woman into a cowboy with a whip and thus bring the drawing to a successful conclusion. Urs Fischer can indeed appreciate that receptiveness to change. 'What does it matter? Nobody's telling me what my work has to look like. I've made it the way I've made it.' Perhaps James Ensor was right when, in 1923, he payed tribute to the making of mistakes, 'those inevitable companions of great qualities,' as he called them. 'Faults elude conventional and banal perfections,' argues the painter. 'Therefore fault is multiple, it is life, it reflects the personality of the artist and his character, it is human, it is everything, it will redeem the work.'
Urs Fischer knows the advantages of failure. Three times he has tried to execute the same idea, and just as many times with unforeseen results. The idea came about while he was working on a sculpture in the yard: 'Cats were always roaming around there. They were constantly sitting on my work, and I liked that. Cats do exactly as they please. They make no distinction between artworks and something else. I then thought of making a work with glass cats who sit and look at transparent castings of doors and other things, and those castings would be held against the wall, like transparent membranes, by sheets of glass.' The envisaged work never took shape - due to a lack of time, a bad mood, an error in the purchase of materials. But M.FChleimer der Hoffnung (1999), Dr. Katzelberg (the ruin of civilization)(1999) and Glaskatzensex / Transparent Tale (2000) can hardly be downgraded for these reasons. Fischer: 'I don't consider those sculptures unsuccessful. Something else just developed as I was working. It's a two-way street. Your thoughts determine the images, and it is the images, in turn, which determine your thoughts. There is no fundamental difference between the two. Sooner or later, there comes a time when the work needs a twist. It asks for this. It wants you to intervene, since otherwise it will flop. No one cares if I'm being faithful to my original idea at this point. Looking back I sometimes wonder: was I being sincere when I made this, was it a meaningful experience? But others couldn't care less about that. You always have to find your way through the work itself. In the end all that counts is whether the artwork takes on a life of its own. I try to create something which is itself.'
A striking aspect of your work is its immediacy and directness, both in the use of materials and in the expression.
'I'm not so crazy about design and technique. To me it's important that I put the work together with my own hands and that I can stop with it when I want. It's the challenge of bringing about something that makes being an artist fun. It confronts you with your limits. Poem-Donkey (2000) is about that. I asked myself what actually is poetic about visual art and if I could get away from that. Every day I wrote poems. At a certain point I had hundreds of them. It's awful to have to think about yourself all the time. All that self-pity, all those feelings and emotions - they all became interchangeable. Then I want to know where it went wrong. Was I limited? Did I lack imagination? When is it time to stop? And how do you go on from there? Finally I photocopied all of the poems onto cellophane and pasted them randomly onto five large sheets of glass. The sheets of glass are stacked upright, one behind the other, in a metal stand, so that the texts show through each other, dissolved in a mind for one day.'
The condensation of time plays an important role in your work. You were trained as a photographer, have experimented with film for a time and now you're producing mainly spatial work. Can you say something about your work as it relates to the experience of time?
'What I do in my studio - and actually we all do this - is to plow through time. Like a farmer. Every day. That applies to all forms of cultural activity, whether you're preparing a meal, taking a walk or making a work of art. We're creating nothing new; we're just developing what surrounds us. Ideas about revolutionary art are all bullshit; even the futurists just did what they had to do. Sometimes there's a Mozart, but those are pretty rare. You can play Mozart to a plant, and even then it works!'
How does your notion of 'plowing through time' relate to the modernist ideal of progress?
'It is progress. All people have to deal with everything that they know; they continue to do so without ever arriving at a final solution. It's not impossible for someone to produce something that had never existed before, but the concept of the new as being a driving force is outdated. This is the age of a 'meltdown' of information and TV intelligence. Modernism has lost ground with those developments. My grandfather, for instance, still believed firmly in technology. As a scientist he was convinced that technology would provide us with a better future. But its financial/economic aspects and the consequences that it would have for our existence were not included in that better future. A lot of modernist nonsense is based on exclusion. At first the surrealists were open-minded, but once they decided to be only surrealists, they became boring.'
Which artists interest you?
'Many different ones for different reasons. Right now, for instance, I'm rereading David Sylvester's interviews with Francis Bacon. The work of Robert Smithson, Paul Thek and Michael Buthe also interests me, because I'm irritated by their own worlds which they create. And Chris Burden - difficult to say why. He's never designed a new layout for the making of art, but his work is nonetheless funny in a peculiar sort of way, even the politically inspired works.'
The nimble, playful irony of your work is sooner related to that of Fischli & Weiss and Georg Herold, for instance, than to the gravity of artists like Hans Haacke. Is your work politically inspired?
'I don't know. Not directly. I once made a bowl of plaster and silicon. Really nice. But after a time it began to bore me. I threw some change into it and then, all at once, it looked right. I thought: yeah, this is what people do at home, this is what tourists do when they throw a coin into a fountain and make a wish. I showed Money Bowl in Switzerland and Italy, and each time I threw some money in it. The next day it would be gone. About five hundred guilders in all. That interaction with the public wasn't anticipated, but there you go, people do steal. It's a work which has no political message. I want to make social art.'
What do you mean by that?
'I don't mean social in the sense of interaction. It has more to do with my fondness for the documentary. When I watch a documentary and I see how someone drinks coffee, puts on his coat and goes to work, I begin to like that person. I like those mild images of ordinary things that people do. My work isn't supposed to be some display case of personal feelings or statement of my beliefs. It should approach what I think about and make all day long: what do you do with it without immediately ruining it by making it important? That's a problem I also have with my drawings. To frame them is uninteresting. I don't want to make them more important than they are. People often think my drawings are funny. I wonder whether they can't be funny and serious at the same time. Like in a film, which can be both comic and tragic. It wasn't until I began to use my drawings for large collages that there arose a complexity that I liked better.'
Some of those collages, such as Eternal Soup of the Day (2000), look like the bulletin boards of a maniac, full of felt-tip sketches in a pop-like style. You've placed a drawing on transparent plastic over this, a drawing of a tree with many branches.
'This tree stands for a system that is equal on both sides. The problem with systems is that you only get to see part of them. You think that the roots are there to feed the tree, but maybe the leaves are there to keep the roots intact. Artists see themselves as individualists rooted in a culture, but they are also the ones who feed that culture. You know, I'd like to create a system that keeps on expanding. One that I can put all my concerns into, where I can use everything that I see.'
What are your plans for Bureau Amsterdam?
'There are various options. It's got to stay loose, not be an arrangement of images. I'd really like to make an exhibition with transparent things or things that are almost not there, like shadows, smoke or dust. I could also make a few sculptures that I have in mind and place those in a large container. Or make work that disappears into the surroundings. But I never know beforehand whether I'll carry out my plans the way I intended.'
Dominic van den Boogerd
Translated by Beth O'Brien