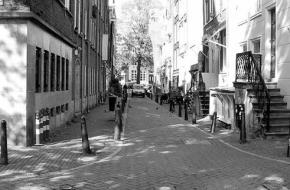 Red A.i.R.
Artists-in-Residency in the Red light district from January to November 2009
4 February 2009
'Red A.i.R.' is a project that combines long and short-term residencies, a series of events and a final presentation in an attempt to question the possibilities and role of art in relation to areas undergoing processes of urban transformation. A selected group of artists and cultural practitioners are invited to reside in the former brothels of the Bergstraat and the Korsjesportsteeg and answer, through their artistic and research practices, some of the following questions: What are today?s potentials for transitory structures and temporary occupations of place? How is it possible to make use of determined conditions of time and space to establish a reciprocal beneficial relation between artists and the hosting context? What is the mutual challenge set in motion for the public, as well as for the commissioners and neighbors, in an area under transformation? Finally, how can the quality of the resulting art production be measured, given on the one hand, art?s distinctive property of eluding any academic discipline, and on the other, the demands to fulfil clear and useful criteria?

By developing art works and activities during the course of the year, 'Red A.i.R.' aims to provide a variety of concrete examples of the fluidity and complexity to the relationship between artists and place and artworks and different publics; as well as offer interesting points of reflection on the ongoing relation between the art practice and a sustainable socio-economical development.
Long-term resident artists of 'Red A.I.R.' are: Laurence Aëgerter, Mounira Al Solh, Alexis Blake, Egle Budvytyte, Francesca Grilli, Achim Lengerer, Ahmet Öğüt and Niels Vis.
'Red A.i.R.' is curated by Angela Serino.

The project is initiated by the City of Amsterdam and the housing corporation De Key/Principaal, and further developed in collaboration with Stedelijk Museum Bureau Amsterdam and Kunstenaars&CO.

More information to be found on Redlight Art Amsterdam