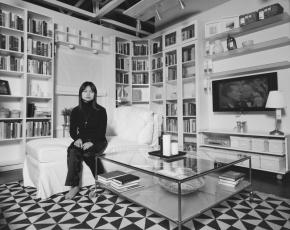 BijlmAIR - Linda-Maria Birbeck
Cover
The new IKEA slogan for the coming year, ?Home: the most important place in the world?, appears to have been deliberately chosen for the portraits of Unaccompanied Minor Asylum Seekers (UMAS) by Linda-Maria Birbeck. The settings for the photographs are the showrooms of the IKEA in Amsterdam Southeast. Birbeck chose the IKEA because of its uniformity worldwide, which means that it is familiar to any viewer anywhere, and because it is recognised as the Western form of interior design. The attractive, profusely furnished rooms are a sharp contrast with the refugees' actual accommodations. Yet the portraits come across as very natural and the UMAS look quite comfortably at home there. Their dream of living in The Netherlands and becoming a part of Western society is subtly expressed in the photographs.
Linda-Maria Birbeck (b. 1974, Sweden) studied photography at the Hogeschool voor de Kunsten in Utrecht and lives and works in Amsterdam. Her work was to be seen earlier this year at SMBA in the photography exhibition ?Capricious?. The exhibition ?Cover? in CBK Zuidoost is the result of her time as artist-in-residence for BijlmAIR.
The show runs from October 12 through 31, at Bijlmerdreef 119, Amsterdam. The exhibition opens on October the 11th at 5 p.m.

See also www.cbkzuidoost.nl
?Cover? has been made possible in part by SAMAH, IKEA and the Fund for the Visual Arts, Design and Architecture.