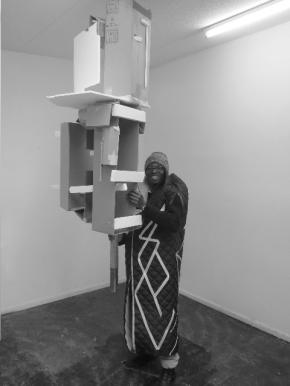 Jérôme Chazeix resident at BijlmAIR
Jérôme Chazeix (France / Germany, 1976) is the first resident of the BijlmAIR program in 2013. His research focuses on elements of parallel worlds such as alchemy and esotericism and results, through the use of versatile media including sculpture, fashion and techno music, in the achievement of an encyclopedic gesamtkunstwerk.
Emblematic of his way of working is the 'total' installation Chazeix created for his solo exhibition at the Langenhagen Kunstverein, where he reshaped the corridor of the German institution in an 18 meter long catwalk. For this occasion, the artist presented ten years production of dresses, videos and volumes, building a kind of flagship store of a pseudo brand that comes after his name, Zeix, which he used to play with the rules of fashion and advertising.
During his residency in Amsterdam ZuidOost, Chazeix is using the Bijlmer area as a tool for his practice, working with the visual landscape of the neighborhood as well as its community. His point is the chimera of building Bijlmer as a new city, as it happened in the early 1960´s. Among the new works Chazeix is currently producing, there are costumes inspired by the geometric shapes of the surrounding architecture and a large sculpture composed of fourteen wearable pieces that he made out of found materials, in collaboration with two local artists. This object starts from a map of the Bijlmer and develops into an utopian model, which will be applied in a parade during the Picture Festival on 21 March 2013.
BijlmAIR is the Artist-in-Residence Programme of CBK Zuidoost, Stedelijk Museum Bureau Amsterdam and FLAT Foundation.
For more information on the work of Jérôme Chazeix: www.zeixberlin.de and www.cbkzuidoost.nl