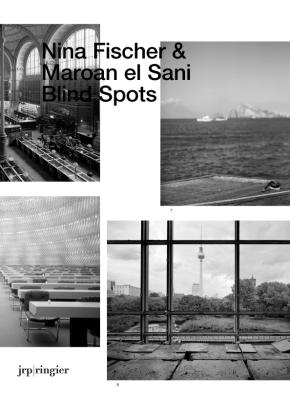 Nina Fischer & Maroan el Sani – Blind Spots
The publication Nina Fischer & Maroan el Sani - Blind Spots is the first large survey of the work of the Berlin artist duo Nina Fischer (1965) and Maroan el Sani (1966). Since the end of the nineties they have been internationally active as a duo with installations, film and video projects in which specific locations are subjected to artistic research. These works focus on the architectural remains of modernist society and the way these manifest themselves in our current epoch. Fischer and El Sani were one of the first to direct their artistic production towards examples of modernist architecture and the ideologies that came with it. In addition to their focus on ideologically loaded sites, their work unmistakably refers to the neo-avantgardist cinema of, amongst others, Antonioni, Pasolini and Tarkovski. This combination results in a precise analysis of the deficit of modernism after the fall of the Berlin wall and the ideological vacuum that followed.
In Nina Fischer & Maroan el Sani - Blind Spots, nine of the most ambitious projects of the duo are discussed by several theorists, curators and critics. Stedelijk Museum Bureau Amsterdam initiated the publication together with the artists and is also one of its publishers.
Title: Nina Fischer & Maroan el Sani ? Blind Spots

Editors: Jelle Bouwhuis, Nina Fischer en Maroan el Sani.

Introduction: Gabriele Knapstein.

Contributions: Jennifer Allen, Nada Beros, Anthony Bond, Jeroen Boomgaard, Jelle Bouwhuis, Marc Glöde, Boris Groys, Hou Hanru, Nicolas Trembley, Krystian Woznicki. Language: English / German.

Cover: 200 p. / bound /

soft cover / 24 x 33 cm / colourillustrations /

Price: 30,- ? /

ISBN: 9783905829181

Published: Stedelijk Museum Bureau Amsterdam, Galerie Eigen+Art Berlin, Yamaguchi Center of Arts and Media (YCAM), Japan

Year: 2008