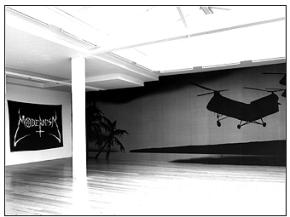 N° 42 SuperNova
Maura Biava / Anuschka Blommers / Niels Klavers / Niels Schumm / Hilary Lloyd
19 December 1998 - 24 January 1999

smba-newsletter-42.pdf (1.2 Mb)

SuperNova
'So many people who go clubbing have incredible star quality. I can watch for hours and no one cares. Everyone I
approach
wants to be filmed. Clubs are really sexy places.'
Hilary Lloyd [1]
'All my films are artificial, but then everything is artificial. I don't know where the artificial stops and the real begins.'

Andy Warhol [2]
SuperNova brings together eight young artists and designers who, individually or working collectively, express the styles of their generation. [3] Music, clubbing and fashion are their sources of inspiration and the fields in which they work. They work independently and on commission, differentiating between the two as little as possible. The notion of identity, 'Who am I?', seems gradually to be being replaced by lifestyle, 'Who am I today?'. In this sense, Andy Warhol - the unofficial Warhol of Interview Magazine, the Factory and Studio 54 - is more topical today than ever before. [4] These artists and designers move effortlessly from the underground to mainstream and back. Their subjects are dominant and subversive styles, real and fictional stars, reality and glamour, bringing Elizabeth Wilson's comment about the sixties to mind: 'The style of the 1960s was also about style - about style as a way of life, style as the self, and yet also style as fun.' [5] In her video sculptures and slide installations, Hilary Lloyd pictures the superstars of the London clubscene: the androgynous poser Felix, the stylish nightclub dancer Colin and the elegant DJ Princess Julia. Her work, often filmed in real time and unedited, is as 'neutral' and documen-tary as her leading actors are extravagant, provoking an unavoidable comparison with Warhol's films from the late sixties. Warhol portrayed the Factory stars - Edie Sedgwick, Nico, Viva, Joe Dellasandro - for whom posing and acting were so much second nature that rehearsals were superfluous. 'For the narcissistic superstars, life and the sensation of being watched converged.... Since the identity of the Factory people was determined by their surface, Warhol's films never psychologize, but instead show stylized people in a stylized society.' [6]
For Maura Biava acting, or rather living different roles began with her participation in Vanessa Beecroft's performances while they were both at the art academy in Milan. 'She knows that my favourite game is to imagine being in various stories', Biava once said in an interview about her collaboration with Beecroft. [7] In her own work, Biava creates highly disparate situations. She has performed as a dancer in an Italian TV show and played the roles of a housewife and a manager. 'In this body of work I simply live all the possibilities that have come and are coming my way.' [8] Her more recent work focuses on a series of fictional female characters. There's Iride, a biology student who collects flowers on the edge of the city and looks for conversation partners through the email, and Delfine (1996) who constantly appears in different poses and outfits. [9] The stylized line drawings and snapshotlike photos show a fantasy world of continuously changing apparitions. The fashion photographers Anuschka Blommers and Niels Schumm play with the conventions of fashion in their work. In one piece, they explicitly pictured the instructions they had received from a well-known Japanese fashion house telling them how to photograph the clothes. For another fashion photo they selected someone who was not a professional model and, contrary to the client's expectations, worked with neither a hairstylist nor a make- up artist. This led to the creation of a hyper-real image that touched on the surreal. The same could be said of their contribution to SuperNova in which Blommers and Schumm collaborated with the fashion designer Niels Klavers. Klavers burst onto the international fashion scene earlier this year with an unorthodox collection in which he deconstructed and multiplied existing garments to create designs that have distinct sculptural qualities. Klavers, Schumm and Blommers have made a ten-metre long panorama photograph for SuperNova. The extremeness and artificiality of Klavers' designs contrast sharply with the greyness of the Dutch suburb in which the models have been placed. And although the scale of the photograph gives viewers the impression they are right in the middle of the scene, the situation is too alienating for one to really grasp.
The work Experimental Jetset (the graphic designers Marieke Stolk, Danny van den Dungen and Erwin Brinkers) make for the music venue Paradiso and BLVD magazine among others could be described as cool, succinct and modernist. Their fascination for the outrageous and baroque aesthetic of one of today's most extreme youth cultures, heavy metal, is perhaps astonishing at first glance. Yet closer inspection reveals that it has a lot to do with the tension between 'self' and 'style'. 'In fact we somewhat identify with certain extreme subcultures. Although we hide behind our clean, modernist aesthetic, we are often highly irrational and nihilistic in the way we think.' [10] Almost as a counterweight to the light, optimistic tone of contemporary mainstream youth culture, Experimental Jetset draws inspiration from the darker iconography of Satanism, doom and black metal music, and from fanzines and conspiracy theories - from youth cultures that have become utterly isolated from society.
Leontine Coelewij
Translated by Annabel Howland
Footnotes:

1. Hilary Lloyd in an interview with Eric Troncy, Documents sur l'art, no. 9, p. 130
2. Exhib.cat., Andy Warhol, A Retrospective, MoMA, New York 1989, p. 461

3. Supernova: a star that explodes catastrophically owing to instabilities following the exhaustion of its nuclear fuel, becoming for a few days up to one hundred million times brighter than the sun. (Collins English Dictionary)

4. See also The Warhol Look, Glamour, Style, Fashion, The Warhol Museum, Pittsburg 1998

5. Elizabeth Wilson, Adorned in Dreams, Fashion and Modernity, London 1985, p. 178

6. Anna Abrahams, Warhol Films, Amsterdam 1989

7. Maura Biava in conversation with Helena Papadopoulos, Documents sur l'art, no. 8, p.198. Ibid.

9. The Internet installation Iride was on show at the exhibition Traces of Science in Art, Trippenhuis, Amsterdam 1998

10. Experimental Jetset in a letter to Bureau Amsterdam, 13 October 1998