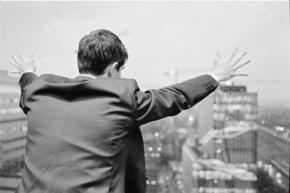 The Rise now on show in MAMAM, Recife, Brazil
The Rise by Fischer and El Sani will be on show in their solo exhibition Nina Fischer & Maroan el Sani in MAMAM The Patio, of Museu de Arte Moderne in Recife, Brazil, from February 28 until April 27, 2013. In the Spring of 2007 the work The Rise by Fischer and El Sani, was on show in SMBA.
The work was made during a five month residency at the Zuidas, Amsterdam's financial district, initiated by Stedelijk Museum Bureau Amsterdam in collaboration with the Lectorship Art & Public Space and Virtual Museum Zuidas.

The work focuses on the complex relationship between the psychological effects, political economic context and formal language of the Viñoly building in the Zuidas.
In this video installation the main protagonist tries to reach the top of the building, via the emergency stairway that spirals up the façade of the Viñoly building. The tiring journey ends in a confusing and unsettling state of emptiness, referencing the journey to the top that seems to characterize life on the Zuidas.
The exhibition in MAMAM comprises other works from the two artists as well. MAMAM no patio is an experimental space for artists in the contemporary arts of the museum. MAMAM is worldwide known for its focus on Brazilian traditions in combination with contemporary arts.
For more information about the museum: www.mamam.art.br
For more informatio on the exhibition of The Rise at SMBA in 2007: The Rise